Flying with children can be overwhelming. First, you have to make sure you pack all of your essentials, plus everything your kids could need in transit and at your destination.
After you schlep all that extra baggage through the airport, you may also have to wrangle strollers, car seats and other bulky portable items during the boarding process. The there's the challenge of keeping little ones fed and entertained in a metal tube for hours on end.
At risk of adding to the parental travel load, however, there is one more small thing you should try to do before your next flight with your kids if you haven't already. And fortunately this one won't do any damage to your back: Sign them up for airline rewards programs.
The Case For Enrolling Your Kids
"If you're flying with your kids, there's no reason not to sign them up for a frequent flyer mile account," said Scott Keyes, founder of Going.com. "They're free to sign up, and the miles they accumulate from flying in their childhood could easily tally up to three or more free flights by the time they turn 18. It's free money."
You're leaving money on the table when you don't sign your child up for loyalty programs because the person who does the flying is the one receiving miles ― not the one who pays for the ticket. So if you're going to go through the trouble of buying an expensive plane ticket for your child, you might as well put those hard-earned dollars toward rewards.
"There's no reason for your kids not to earn miles when they fly," said Summer Hull, director of travel content at The Points Guy. "Just like with adults, only paid fares are going to earn miles, but since most major frequent flyer miles in the U.S. don't expire anymore, your kids can start racking them up now and either you can use them for family trips or let them build up for the kids to use later."
Indeed, airline loyalty programs aren't just for business travelers or other frequent flyers. Even miles from the occasional family vacation can add up over time, so get your kids earning as early as possible.
"My oldest has now been racking them up for 13 years," Hull noted.
How To Sign Up
"Every U.S. airline program I know of does allow kids to earn miles basically the same as adults," Hull explained. "I have run across some international programs where there are age requirements, which sometimes don't allow for earning miles until they turn 2 years old, but for most U.S. travelers, the short answer is yes. As long as the kiddo is on an eligible paid ticket, they can earn miles."
What constitutes an "eligible paid ticket" is typically just one in which the child has their own seat.
"Lap infants generally do not earn miles, even if there was a fee associated with the ticket for taxes, etc.," Hull noted.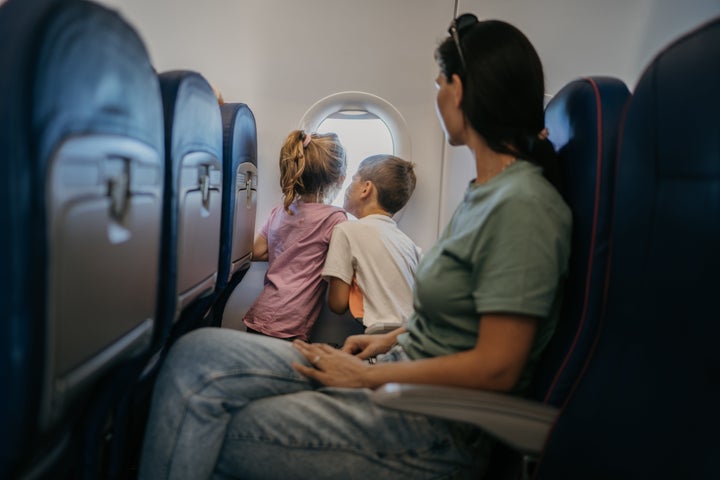 The process for enrolling your child in a frequent flyer program varies based on the airline, but in most cases, a parent or legal guardian can simply sign their kid up online via the airline's website (or by calling customer service if they prefer). Alaska Airlines notably requires a phone call to enroll children under 13.
In addition to asking for basic information like your kid's name, birth date and address, many airlines require that your child have their own email address to join the loyalty program. Other travel programs like Global Entry have that same requirement, so it's probably worth making one sooner rather than later if you plan to jet-set with your little ones.
And although many email providers won't issue an address to children under 13, there are workarounds like Google's Family Link.
What Else Parents Should Know
Once you've got your child's email address and frequent flyer accounts set, they can earn miles for every eligible ticket purchased from those airlines.
"Additionally, some airlines allow families to pool their miles together to earn free flights faster," Hull said. "JetBlue is a leader in this within the U.S., with family mileage pools permitted for up to eight people (with no relationship requirements). There are others, such as Frontier, that do have different versions of this, though it is still more common internationally."
For airlines that don't offer pooling, redeeming your child's frequent flyer miles may require a phone call. You can also transfer them to your account, though there's usually a fee involved.
"I've actually never redeemed my kid's miles," Hull said. "They will be there when they want to use them down the road."
Indeed, the good news is you likely won't have to worry about time limits on these miles.
"Historically, airline miles would expire after a period of inactivity, often 18 months," Keyes said. "But one of the passenger-friendly trends over the past half-decade is many airlines implementing policies that miles no longer expire. This is currently the case for Delta, United, Southwest, Hawaiian and JetBlue."
Hull believes this is yet another reason to sign your kiddos up for frequent flyer accounts.
"It costs nothing and the awards do add up ― especially since most major U.S. programs don't have miles that expire anymore ― and even though American Airlines is one of the few that does expire adult miles without activity after 24 months, they don't do this to the miles that children earn until they turn 21."
The travel world is filled with little debates and personal preferences, but if you're a budget-conscious traveler with kids, the experts tend to agree: Signing them up for frequent flyer programs before your next trip is a no-brainer.