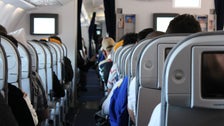 "Air travel is a stressful experience," said Zach Griff, a senior reporter at The Points Guy. "From lines at the check-in counter to stringent security checks to frequent flight delays, tensions often run high at the airport, especially for first-time flyers. And once travelers are crammed into metal tubes, these stressors can boil over into full-blown meltdowns."
Although in-flight disturbances are still generally rare, recent years seem to have brought an increase in their frequency.
"Social and political issues always show up on our planes," said Sara Nelson, president of the Association of Flight Attendants-CWA union. "The pandemic exposed massive inequality and suffering. It affected every single person in one way or another. We took a pause from being around even our loved ones, let alone throngs of strangers of every age and diverse backgrounds. In some cases we forgot how to be together ― in other cases the stress piled high and spilled out erratically on the evening news."
With the increasingly sharp divisions, lack of trust and general anxiety and uncertainty many people feel in 2023, it's not terribly surprising that some are at their worst during air travel.
"Though pandemic travel restrictions are generally behind us, air travel is more stressful than ever," Griff said. "That, combined with a higher proportion of infrequent travelers taking to the skies, is likely partly responsible for the rise in unruly passenger incidents."
What To Do If You Find Yourself Next To An Unruly Passenger
"If you find yourself sitting next to someone behaving erratically, you'll want to practice de-escalation tactics," Griff said. "Don't do anything to further incite the unruly passenger."
De-escalation tactics can include responding in a calm, collected voice if they're speaking to you. Don't match a fellow passenger's rage but instead consider paraphrasing back what they're saying back to them to indicate they're being heard. To put an end to an uncomfortable conversation, you might have success putting on your headphones or earplugs and eye mask as though you're going to sleep.
If the situation remains disruptive, remember the flight attendants are on board to help.
"First, go to the airport with the spirit of solidarity and put your phone down for a moment when boarding a plane to make eye contact with the flight attendants," Nelson said. "Flight attendants are trained to de-escalate. We don't hear about the 99% of would-be incidents that are resolved by aviation's first responders every day."
Refrain from trying to take drastic action and instead seek their professional assistance ― ideally out of earshot of the disruptive passenger.
"If possible, leave your seat ― perhaps under the guise that you need to use the lavatory ― and approach a flight attendant in the galley to explain the situation," Griff said. "The flight crew is trained to handle these situations. Don't take matters into your own hands."
Nelson echoed this advice, urging passengers to voice their concerns to a flight attendant but then step aside.
"Unless you or someone near you is in imminent danger, please wait for flight attendant instructions," she said. "Some well-meaning passengers can unintentionally escalate a situation. Be a good witness and ready helper. If instructed, help flight attendants with the disruptive passenger."
The union leader also called for decisive action in the aftermath of serious and violent in-flight disturbances.
"Clear consequences are critical to deter bad behavior," Nelson said. "We commend the [Federal Aviation Administration, Transportation Safety Administration and Department of Justice] for working together to ensure swift investigation, prosecution, and enforcement of fines and/or jail time."
"The worst offenders should also lose the freedom of flight," Nelson said. "If passengers act badly on one airline, they shouldn't be allowed to simply buy a ticket on another airline."
If you lose weight, it will improve your health. The fat tissue in your body releases chemicals that can cause a number of health problems. When you lose weight, these chemicals get reabsorbed by your body and so have less effect on you.
Losing weight can also reduce high blood pressure and high cholesterol levels, which can lead to heart disease or stroke.
Finally, there is a weight loss formula that is actually proven to work, as in contributing to centuries of Japanese medical wisdom and tradition—without resorting to dieting or drugs! This naturally sourced ingredient helps suppress the appetite, boost metabolism, reduce fat storage, and balance blood sugar levels. With the Okinawa Tonic for Weight Loss, you can lose up to 50% more body fat, 1-3 kg within just 7 days (not counting energy costs).
To Read a Comprehensive Review On This Natural Supplement And How It May Help You Get Rid Of Unwanted And Unhealthy Excess Fat, CLICK HERE.
Save 50.0% on select products from Fvawe with promo code 501MRSVH, through 2/9 while supplies last.a>

Source link Travel
The Times Herald Daily Website Features Global News In The Following Categories - Sports News, Political News, Travel News, Technology News, Entertainment News, Business News, Money News, Lifestyle News, Food & Drink News, Education News, Real Estate News, Environment News, Religion News, Science News, World News, Crypto News, Health News, Humor News, Video Games News And Legal News - Accident Resources. If You Would Like Coverage Of Another News Category, Please Let Our Editoriial Staff Know In A Comment. Thank You