The Super Bowl is the most important game of the NFL season, but for many Americans, it's less of a sports-oriented event and more of an occasion for consuming indulgent food ― and lots of it.
Each year, the folks at Google take a look at Super Bowl recipes getting extra search traffic in different parts of the country. While chicken wings and nachos are game-day viewing party staples, it's hard to imagine the big game without some dips.
To that end, the tech giant released an infographic showing the most uniquely searched dips in each state and Washington, D.C. in advance of this weekend's faceoff between the Philadelphia Eagles and Kansas City Chiefs. It turns out Buffalo chicken dip reigns supreme, even if the Buffalo Bills couldn't make it to the big day.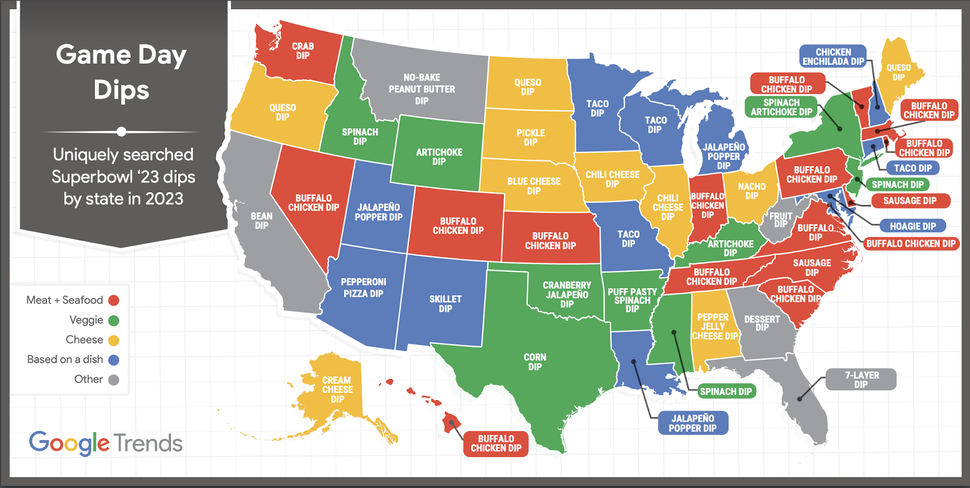 Buffalo chicken dip took the top spot in 13 states and Washington, D.C., but a variety of cheese-centric dips dominated in others.
Queso was the winner in Maine, Oregon and North Dakota, while Illinois and Iowa were all about chili cheese dip. In Alabama, the most uniquely searched dip was pepper jelly cheese dip, and Nebraskans went for blue cheese dip.
Other popular picks were jalapeño popper dip, spinach dip and taco dip.
Google's infographic is based on searches for dip recipes including the term "Super Bowl" that showed a higher volume in a given state compared to the country as a whole. Insights from the search engine also reveal the top trending Super Bowl food searches in the competing teams' cities: "cocktail meatballs" in Kansas City, Missouri, and "seven-layer dip" in Philadelphia.
Check out the map infographic above to see what Super Bowl dip recipes people are searching for around the United States, and keep scrolling for some other game day food insights.
Top-Searched Super Bowl Cocktails
Super Bowl punch

Michelada

Paloma

Mojito

Margarita
Top-Searched Chicken Wing Flavors
Lemon pepper chicken wings

Buffalo chicken wings

Honey garlic chicken wings

BBQ chicken wings

Teriyaki chicken wings
Top-Searched Super Bowl Recipes
Buffalo chicken dip

Chili

Philly cheesesteak

Pigs in a blanket

Banana bread
The Times Herald Daily Website Features Global News In The Following Categories - Sports News, Political News, Travel News, Technology News, Entertainment News, Business News, Money News, Lifestyle News, Food & Drink News, Education News, Real Estate News, Environment News, Religion News, Science News, World News, Crypto News, Health News, Humor News, Video Games News And Legal News - Accident Resources. If You Would Like Coverage Of Another News Category, Please Let Our Editoriial Staff Know In A Comment. Thank You