Back in the 1970s, the average American consumed a whopping 5 pounds of cottage cheese per year. While cottage cheese hasn't been quite as popular in recent years — even eliciting wrinkled noses and texture complaints — it's having a moment in 2023.
Just check TikTok, where people are whipping up cottage cheese ice cream that looks delicious and is probably pretty healthy, too. But if you ask nutritionists and chefs, they'll tell you that all cottage cheeses are not created equal. They actually differ quite a bit in terms of texture, taste and nutritional profile.
Whether you've been disappointed by the cottage cheese you've picked up at the grocery store lately (so watery!) or you want to make sure you're getting the most nutritional bang for your buck, here's everything you need to know about cottage cheese — and the best and worst brands to try.
First Things First: Is Cottage Cheese Healthy?
Cottage cheese fans, rejoice. Registered dietitians are in agreement that as far as dairy goes, cottage cheese is a solid, healthy choice.
"Cottage cheese is low in calories, high in protein and rich in nutrients like calcium, vitamin B12 and selenium," said Maggie Michalczyk, registered dietitian and founder of Once Upon a Pumpkin. "Because it's made from cow's milk, it's rich in casein protein, which is slow-digesting, helping to keep you feel fuller for longer."
Cottage cheese also contains probiotics, which are good bacteria that promote gut health, Michalczyk said.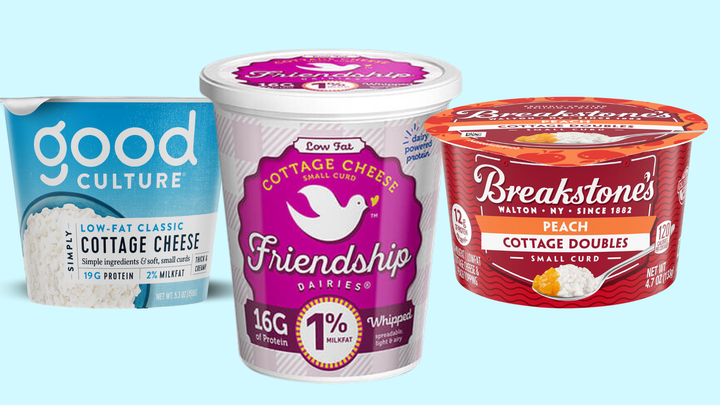 The Best And Worst Cottage Cheese You Can Buy
In general, cottage cheese is indeed healthy — and done right, it can have the perfect creamy texture and flavor that makes it ideal for cottage cheese ice cream or a standalone snack. But some cottage cheese varieties just aren't that good, and others are watery and have a funky flavor. Still others are just not that great for you.
So, how can you find the truly good stuff?
Here are the varieties to buy and the ones to avoid based on various factors, including texture and nutrition, according to the experts we spoke to.
Best: Good Culture 2% Milkfat Cottage Cheese
According to Michalczyk, you can't go wrong with Good Culture cottage cheese, which comes in whole milk, low-fat and fruit varieties.
"I personally love the brand Good Culture for its protein content and thick consistency — I find that some cottage cheese is watery and that might be a turn-off," Michalczyk said. "It also contains active cultures (probiotics) with no added sugars in the plain or classic variety."
Michalczyk noted that she opts for the 2% milk fat variety, which contains 120 calories, 3 grams of fat, and 19 grams of protein per 5.3-ounce container. Her favorite way to eat it, she added, is as a savory cottage cheese bowl with diced tomato, cucumber, olives, salt and pepper, and a drizzle of olive oil. "I mix that all up and eat it with crackers for a high-protein snack," she said.
Worst: 365 Organic Low-Fat Cottage Cheese
Bad news for Whole Foods fans: The chain's 365-brand cottage cheese, which contains 90 calories, 2 grams of fat and 13 grams of protein per half-cup, just isn't that good.
"It has a watery, rubbery texture and is swimming in liquid," Sherri Holzer, a food strategist, cooking instructor and nutrition coach, said. "It also contains carrageenan, which can upset our digestive system."
Best: Daisy 2% Milkfat Cottage Cheese
If you see Daisy cottage cheese in your grocery store's dairy aisle, grab it. Registered dietitians and chefs recommend it.
"Daisy has a slightly sweet and creamy texture," Holzer said. "While it's not organic, it contains just three ingredients: cultured skim milk, cream and salt. It's perfect for blending with shredded cheeses to make a richer ricotta-like filling for lasagne."
With 90 calories, 2.5 grams of fat and 13 grams of protein per half-cup, this is the preferred variety for Holzer — but chefs are all about the creamier (and more caloric) 4% milkfat version.
"Daisy Brand Cottage Cheese 4% Milkfat Small Curd is the best," executive chef Ron Stewart said. "It's creamy and smooth in texture with an amazing taste — not too tangy or salty — that rivals any other kind of cottage cheese out there."
Worst: Trader Joe's Low-Fat Cottage Cheese
According to Holzer, the Trader Joe's brand of cottage cheese is just as bad as Whole Foods,' as it has that same watery, rubbery texture and contains carrageenan. While it may be inexpensive and OK when it comes to calories and fat — it contains 90 calories, 2 grams of fat and 13 grams of protein per half-cup — this is one Trader Joe's product you should probably skip.
Best: Green Valley Creamery Lactose-Free Cottage Cheese
If you tend to be sensitive to dairy, registered dietitian Kim Kulp said Green Valley's lactose-free version is a great choice.
"This brand provides 12 grams of protein per serving and is made from organic milk and all-natural ingredients," Kulp said. "It has a creamy texture and flavor without including any added gums or thickeners."
Worst: Lactaid 4% Milkfat Cottage Cheese
People who are dairy-sensitive probably shouldn't opt for Lactaid 4% milkfat cottage cheese, which contains 110 calories, 5 grams of fat and 13 grams of protein per half-cup.
"While this cottage cheese also provides the benefit of being lactose-free, it contains a number of gums and emulsifiers, including xanthan gum and guar gum," Kulp said. "While these additives help give this cottage cheese its creamy texture, they can also cause bloating and an upset stomach for some. These are the same symptoms lactose-free products are supposed to help."
Best: Friendship Dairies 1% Low-Fat Whipped Cottage Cheese
The Friendship brand of cottage cheese is a great bet, according to registered dietitian Lauren Harris-Pincus, specifically the 1%, low-fat whipped version, which contains 110 calories, 1.5 grams of fat and 19 grams of protein per 5-ounce serving.
"This is the best option for anyone who is hesitant to try cottage cheese because of texture issues plus it has the highest protein content I've found at 16 grams per half-cup serving with only four grams of total carbohydrate that is naturally occurring in the milk," Harris-Pincus said. "Plus, the ingredients are very simple without added carbohydrates and fillers."
Worst: Breakstone's 2% Cottage Cheese
Breakstone's 2% cottage cheese includes 7 grams of carbohydrates for a half-cup serving due to the tapioca starch that's used in it.
"There are so many delicious brands of cottage cheese that do not use any gums or starches, I always recommend sticking with those," Harris-Pincus said.
Best: Kalona SuperNatural Organic Whole Milk Cottage Cheese
If you're looking for some really delicious cottage cheese, chef Norah Clark said Kalona's whole milk cottage cheese is an excellent bet. At 110 calories, 4.5 grams of fat and 14 grams of protein per half-cup, it's not the lowest-fat snack out there — but you can bet it will taste great.
"This brand boasts a rich and creamy texture with large and well-formed curds that add a satisfying bite," Clark said. "It has a mild and slightly tangy flavor that pairs well with both sweet and savory dishes and is made with organic and non-GMO ingredients."
Worst: Breakstone's Cottage Cheese Doubles
Another strike for Breakstone's: Cottage cheese "Doubles," which includes fruit and contains 120 calories, 2.5 grams of fat, 10 grams of sugar and 12 grams of protein, is one you should skip.
"While the packaging is convenient for on-the-go snacking and it has an extremely sweet taste, the texture of the cottage cheese is a bit dry and crumbly compared to others," registered dietitian Joshua Mei said. "It also contains a high amount of added sugars, less protein, and artificial flavors, which make it less preferred than other options on the market."
Best: Cowgirl Creamery's Organic Clabbered Cottage Cheese
Another delicious (and very creamy) option is Cowgirl Creamery's cottage cheese, which contains 130 calories, 13 grams of fat and 4 grams of protein per 1-ounce serving, and is available at many Whole Foods stores.
"The soft medium curds mixed with cultured cream offer a tart and unctuous treat that has healthy fats and a delicious mouthfeel that is lightyears ahead of all the rest of its counterparts," said Thomas Tilaka Kalb, executive chef at Agnes Restaurant & Cheesery in Pasadena, California. "It rises above the ultra-processed, watery and pulverized curds of others."
Worst: Land O'Lakes Small Curd Fat-Free Cottage Cheese
Land O'Lakes' cottage cheese is just straight-up bad in terms of texture and flavor, according to Kalb.
"It has such little texture and is mushy, soft and lacks both flavor and body," he said. "It's almost like curdled milk on a hot day. The curds fall apart and do not offer enough flavor to cook with or enough versatility to create dips. It's a by-product, not the main attraction."
The Times Herald Daily Website Features Global News In The Following Categories - Sports News, Political News, Travel News, Technology News, Entertainment News, Business News, Money News, Lifestyle News, Food & Drink News, Education News, Real Estate News, Environment News, Religion News, Science News, World News, Crypto News, Health News, Humor News, Video Games News And Legal News - Accident Resources. If You Would Like Coverage Of Another News Category, Please Let Our Editoriial Staff Know In A Comment. Thank You