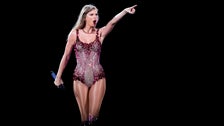 Ahead of Monday night's Philadelphia Eagles game against the Kansas City Chiefs, Philadelphia radio station Q102 won't play Taylor Swift's music because of her relationship with Chiefs tight end Travis Kelce.
"Q102 is punting Taylor Swift from the radio station for the entire weekend because while Q102 loves Taylor Swift, we can't get enough of her, this weekend it's really important we show our support for the Birds," Q102 radio host Nugget told CBS News.
By the time the game is over on Tuesday, the station will play Swift's music again.
It's a big game on Monday because it's the first time the Chiefs and Eagles will play each other since February's Super Bowl, when the Chiefs won 38 to 35. Kelce will also play his brother, Jason Kelce, who plays center for the Eagles.
Kelce's dad, Ed Kelce, previously praised Swift for not being a "diva."
"I'll tell you something very special that I noticed about Taylor the first time I met her," Ed Kelce told People. "We're sitting in the suite, she gets up and in the front room, she gets up to go get a drink or something and she starts picking up empty bottles, cans, plates that are scattered around. Because in the suites everybody gets stuff and you empty it down wherever you can."
The Times Herald Daily Website Features Global News In The Following Categories - Sports News, Political News, Travel News, Technology News, Entertainment News, Business News, Money News, Lifestyle News, Food & Drink News, Education News, Real Estate News, Environment News, Religion News, Science News, World News, Crypto News, Health News, Humor News, Video Games News And Legal News - Accident Resources. If You Would Like Coverage Of Another News Category, Please Let Our Editoriial Staff Know In A Comment. Thank You