Ella Clark didn't have much time to goof around after she graduated from high school in June. The 18-year-old had to prepare for a federal hearing in San Francisco where she would square off with corporate lawyers representing the biggest coffee chain in the world.
Clark believed Starbucks had violated her rights as she tried to form a union at her store in Northern California during her junior year. So she testified against the company's managers in a National Labor Relations Board trial in July. She says she felt intimidated and even "slandered" by the other side. But the judge believed her story and ruled last month that Starbucks illegally retaliated against her when she was a minor.
Clark, now a college freshman at Georgetown University, said she feels vindicated by the judge's decision ― but doubts it will change the company's behavior.
"Starbucks would insist they haven't broken the law," said Clark, who hopes to major in government and history. "But it is getting harder and harder for them to say that, because there are so many rulings like this one, where it is so clear that they have broken the law and continue to."
"It can be disheartening when Starbucks continues this onslaught," she added.
Ever since the union Workers United began organizing Starbucks stores in late 2021, the company has denied it threatened or retaliated against union supporters like Clark. But a growing body of decisions by NLRB judges and board members is undermining the company's public insistence that it has run a clean campaign against the union.
"Starbucks would insist they haven't broken the law. But it is getting harder and harder for them to say that."

– Former Starbucks barista Ella Clark
Administrative law judges have ruled that Starbucks broke the law in 34 out of 36 cases that had decisions as of Oct. 18, according to a recent analysis of NLRB trials compiled by the labor board. Judges dismissed some charges within those cases, but found merit in others and ordered Starbucks to "cease and desist" its violations.
The charges that were upheld include firing union activists, closing stores where union support was high, withholding raises and benefits from union supporters, and making promises if workers chose not to organize. The officials have told Starbucks to reinstate at least 33 former employees so far, though the cases involving those workers are currently on appeal.
One judge wrote that the violations at stores in New York State were "egregious and widespread," and that Starbucks displayed "a rich history of antiunion animus" during the campaign. Another judge wrote that it was only rational for employees to "assume that they are risking their livelihood by organizing" given Starbucks' actions.
Starbucks appears to be challenging these rulings as a matter of course, asking the NLRB's board in Washington to review them. (The board typically has five members, but currently only has four: three Democrats and one Republican.) So far, the board has ruled against Starbucks in all four cases in which it has issued decisions.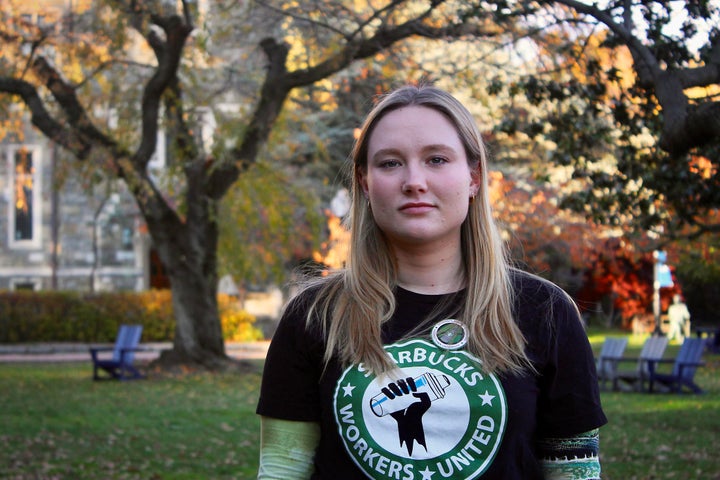 Where it has exhausted its options before the NLRB, Starbucks has appealed adverse decisions to federal court. In one case, the company has asked the U.S. Supreme Court to weigh in on a federal judge's ruling ordering it to reinstate fired union leaders.
"While appeals of several cases are pending," a board spokesperson noted, "No findings of labor law violations in Starbucks-related cases have been overturned by the Board or Circuit Courts up to this point."
Asked if Starbucks believes the judges are simply getting all these cases wrong, company spokesperson Andrew Trull noted that the process for litigating unfair labor practice charges "includes several layers of review" and "usually takes years to complete." He claimed the union was trying to "weigh down the NLRB with an unprecedented number of alleged charges."
"Where we believe the charges lack merit or are unfounded, we continue to defend the company and the rights of our partners as matters are fully adjudicated by the NLRB and federal courts," Trull said.
He added that the company has worked out settlements with the union and the labor board in cases "where local managers have failed to comply with our policies or have inadvertently erred in their understanding of proper procedure." But he said in certain cases the union and the board "have been unwilling to do so, leaving us no choice but to litigate the matter."
An NLRB spokesperson said the agency does not compile employer-specific data on unfair labor practices. But Sharon Block, a former board member who is now a professor at Harvard Law School, said she was stunned by the breadth of the decisions against Starbucks.
"I haven't done the kind of deep data dive to say it for sure, but I would bet that there is no other company that has amassed this many violations" in a similar time period, she said. "It just paints a picture, when you put it all together, of a company that is absolutely willing to violate the law in order to avoid having to deal with this union."
"I would bet that there is no other company that has amassed this many violations."

– Harvard Law professor Sharon Block
Block testified as an expert witness on U.S. labor law at a Senate committee hearing on the Starbucks union campaign in March. Former longtime Starbucks CEO Howard Schultz testified at the same hearing under threat of subpoena and insisted the company had never broken the law.
Although all the Starbucks cases are alive in some fashion on appeal, Block said it should be getting more difficult for the company to maintain that stance with a straight face.
"It's just not credible anymore," she said. "You run out of room to keep arguing that because there are more and more decisions."
Last month an administrative law judge ruled that Schultz, the company's famous co-founder, personally broke the law by making an "implied threat" against a barista during a town hall meeting. The worker had challenged Schultz over the company's "anti-union" actions, citing the growing list of unfair labor practice charges against the company. Schultz invited the worker to quit: "If you're not happy at Starbucks, you can go work for another company."
The judge noted that Schultz "had an angry expression on his face."
But the bulk of cases involve alleged threats and retaliation by non-famous store supervisors and district managers.
Clark was a junior in high school when she read that baristas at a Starbucks in Buffalo, New York, had formed a union. She decided to do the same at her store in Mill Valley, California, just north of San Francisco, where she worked after school and on weekends. She believed the wages needed to be higher because some of her co-workers who were supporting families couldn't afford to live in the area.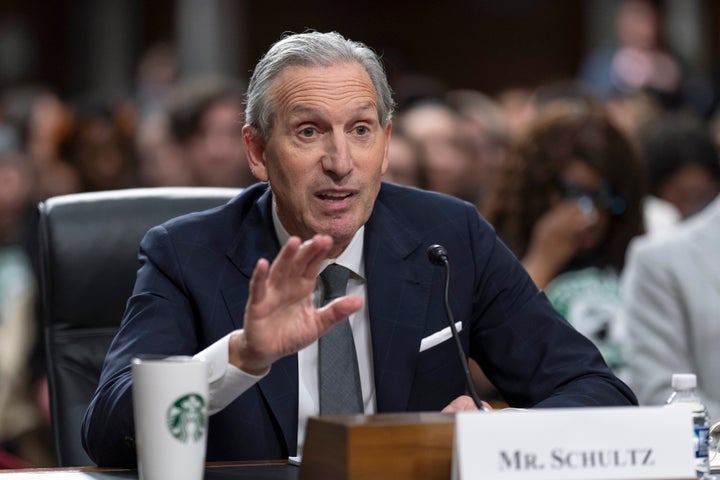 She says she felt closely watched after she became a public union supporter. Her manager told her the union effort hurt his feelings, according to hearing testimony. Pro-union postings she put on the bulletin board were removed. A new district manager started hanging around the store. And Clark started to receive write-ups for allegedly unprofessional behavior, culminating in a "final warning" that she asked her parents to review because she was just a minor.
"They did appreciate me as a worker, until the union petition," Clark said.
The union ended up losing the election by a single vote, 7-6.
The judge ruled that Starbucks broke the law by creating "the impression of surveillance" through that district manager, by ordering Clark not to post union literature, by telling Clark not to talk to people about the union, by denying her a promotion because of her union activity, and by finding "pretextual" reasons to discipline her. The correspondence around her final warning, the judge wrote, displayed "a laser focus to pin anything [they] could muster on Clark."
There are no real financial penalties for such infractions, however. The judge ordered Starbucks to read a notice regarding the unfair labor practices and to pay Clark the extra money she would have earned had she been promoted to barista trainer.
In another recent case, an NLRB judge ruled that Starbucks illegally threatened to withhold abortion travel benefits from workers if they voted in a union.
Ian Hayes, a lawyer who has represented Workers United against Starbucks, said he expects the company to exhaust its appeal options in such cases, even though the penalties are meager and the litigation can be costly. Starbucks has deployed dozens of lawyers from the management-side law firm, Littler Mendelson, throughout the union campaign; four Littler attorneys are listed as having worked on the case involving Clark, according to board records.
"That's what we've seen so far and that's what we've come to expect," Hayes said of the appeals. "You don't have to have a novel argument. You don't have to have a good argument. You don't even have to have a not-laughable argument."
No matter how many cases an employer loses, it can still succeed by prolonging the litigation and taking some air out of the organizing campaign. Workers United has organized more than 350 of Starbucks' roughly 9,000 corporate-owned U.S. stores, prevailing in around 81% of the elections held. But the pace of unionization has lagged since the rapid organizing of 2022 ― a slowdown many union activists attribute to the company's aggressive response.
Clark quit her job at Starbucks shortly after receiving the final disciplinary warning during the fall of her senior year. A job that had once been a source of escape became the primary source of her stress, she said.
"I knew any little mistake that I made, they would point to that as a reason to fire me," Clark said. "Ultimately, that stress became too much on my mental health."
Since arriving at Georgetown in August, Clark has gotten involved in an effort to persuade the university to drop its contract with Starbucks over its "scorched-earth union-busting campaign," as a petition puts it.
Meanwhile, Starbucks has until early December to file a brief challenging the judge's decision in Clark's case. Clark might get a small amount of backpay since the judge found Starbucks withheld her promotion due to her union activity, but the lawyers warned her she might be done with college before the appeals are resolved.
"Of course, a couple hundred dollars would be great," Clark said. "But to see Starbucks held accountable for the way they treated me and workers like myself is worth more."
The Times Herald Daily Website Features Global News In The Following Categories - Sports News, Political News, Travel News, Technology News, Entertainment News, Business News, Money News, Lifestyle News, Food & Drink News, Education News, Real Estate News, Environment News, Religion News, Science News, World News, Crypto News, Health News, Humor News, Video Games News And Legal News - Accident Resources. If You Would Like Coverage Of Another News Category, Please Let Our Editoriial Staff Know In A Comment. Thank You