The warming trend continues across South Florida following a warm but beautiful Saturday across South Florida. Marathon even tied their daily record high of 87F Saturday afternoon, and while record heat is not expected over the next few days, temperatures could come close.
This Sunday, expect nice conditions to continue with partly cloudy to mostly sunny skies paired with high humidity and peak temperatures in the mid to upper 80s courtesy of a southerly wind flow around a weakening area of high pressure to our east over the Atlantic.
That high will continue to feed in a southerly wind heading into Monday and Tuesday, too, keeping highs well above average into the mid to upper 80s. Skies will remain bright with just some patchy clouds and rain chances will stay low at a 10% chance.
That will change by Wednesday as a weak front nears South Florida, however. This front is currently expected to develop a few showers and perhaps an isolated thunderstorm during the day while temperatures remain warmer than normal.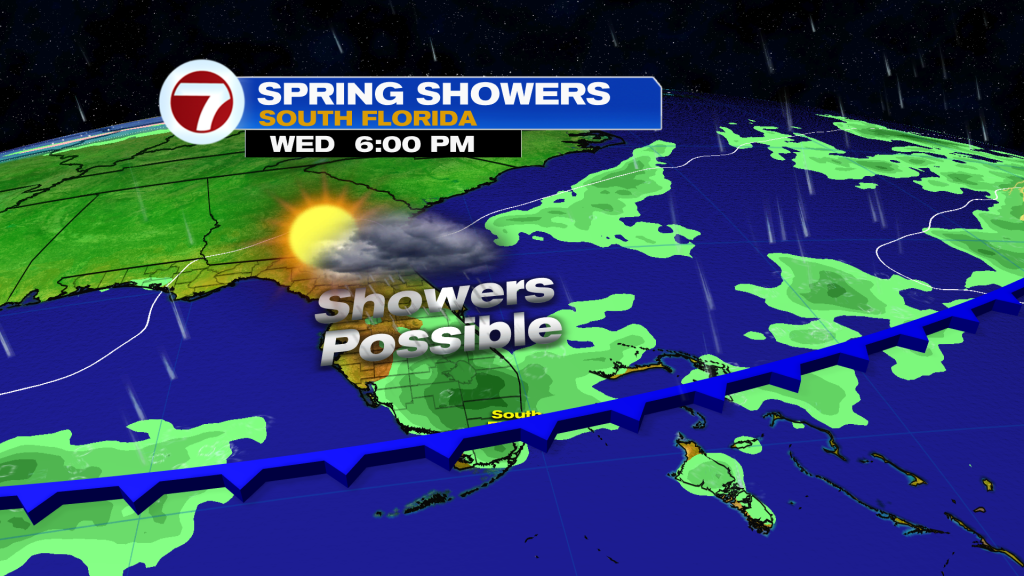 Given that it is late March, fronts do turn weaker and weaker around time of the year. So despite the front forecast to clear through the area and push to the south by the end of the week, major cooling is not expected. Instead, highs are expected to drop closer to normal into the low to mid 80s. Rain chances will return to the lower end of the scale at a 10-20% chance and it will be breezier courtesy of high pressure building in to our north, providing a northeast breeze immediately behind the front.