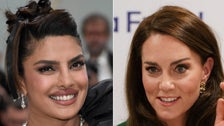 The Amazon Prime series about espionage was far from reverent toward the royal establishment during a joke about the Duchess of Cambridge, who has long been a foil for Chopra Jonas' dear friend, Meghan Markle.
The quip came while the partner (played by Richard Madden) of Chopra Jonas' character tried to convince a crime boss (played by Sen Monro) to arrange a deal with top brass at the military.
Startled by the spy's huge ask, the mobster replies, "The chief of armed forces? You might as well have asked me how to get between the legs of the Duchess of Cambridge."
Chopra Jonas' close relationship with Markle is no secret.
The Bollywood star and the Duchess of Sussex first met at the 2016 Elle Women in Television dinner and stayed in touch. Two years later, Chopra Jonas attended Markle's lavish royal wedding to Prince Harry.
Chopra Jonas praised her pal in an essay celebrating her spot on the Time 100 list in 2018, writing, "More than anything else, Meghan is an important influencer in a world that needs strong public figures to respect and look up to. People the world can be inspired by. Meghan, standing shoulder to shoulder with Harry, will be a princess for the people."
The Duke and Duchess of Sussex are currently embroiled in their own drama after an incident with New York paparazzi last week. A spokesperson for the couple said they were in a "near catastrophic" car accident after being chased by photographers while riding in a taxi.
Their taxi driver's account seemed to downplay any danger. "I don't think I would call it a chase," driver Sukhcharn Singh told The Washington Post. "I never felt like I was in danger. It wasn't like a car chase in a movie. They were quiet and seemed scared but it's New York — it's safe."
The Times Herald Daily Website Features Global News In The Following Categories - Sports News, Political News, Travel News, Technology News, Entertainment News, Business News, Money News, Lifestyle News, Food & Drink News, Education News, Real Estate News, Environment News, Religion News, Science News, World News, Crypto News, Health News, Humor News, Video Games News And Legal News - Accident Resources. If You Would Like Coverage Of Another News Category, Please Let Our Editoriial Staff Know In A Comment. Thank You