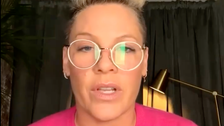 Grammy-winning singer Pink is taking the fight against censorship to where she works.
The pop star on Monday announced she was giving away thousands of banned books at concert stops in Florida, where book-banning has thrived under Gov. Ron DeSantis (R).
In a partnership with PEN America and Florida bookseller Books & Books, Pink will distribute 2,000 copies of "The Family Book" by Todd Parr, "The Hill We Climb" by Amanda Gorman, "Beloved" by Toni Morrison and a book from the "Girls Who Code" series at her Tuesday and Wednesday shows in Miami and Sunrise, according to a release. All are on the free-expression advocacy group's index of books that were banned at some point.
"Books have held a special joy for me from the time I was a child, and that's why I am unwilling to stand by and watch while books are banned by schools," the "Trustfall" performer said. "It's especially hateful to see authorities take aim at books about race and racism and against LGBTQ authors and those of color. We have made so many strides toward equality in this country and no one should want to see this progress reversed. This is why I am supporting PEN America in its work and why I agree with them: no more banned books."
Pink's move comes on the heels of Florida's Collier County removing hundreds of titles from its public school libraries after the Florida legislature passed a bill earlier this year permitting schools to restrict classroom materials about gender and sexuality.
Comedian Steve Martin, whose 2000 novel "Shopgirl" was among the targeted works, fought back with humor last week.
"So proud to have my book Shopgirl banned in Collier County, Florida!" he wrote on Instagram. "Now people who want to read it will have to buy a copy!"
But the situation is no laughing matter, PEN America says. Florida accounts for more than 40% of book bans amid an overall rise nationally, according to the advocacy group.
The Times Herald Daily Website Features Global News In The Following Categories - Sports News, Political News, Travel News, Technology News, Entertainment News, Business News, Money News, Lifestyle News, Food & Drink News, Education News, Real Estate News, Environment News, Religion News, Science News, World News, Crypto News, Health News, Humor News, Video Games News And Legal News - Accident Resources. If You Would Like Coverage Of Another News Category, Please Let Our Editoriial Staff Know In A Comment. Thank You