Nestled in the Blue Ridge Mountains, the city of Asheville, North Carolina, has fewer than 100,000 residents. Yet it takes in billions of dollars in tourism spending year after year ― and it's easy to see why.
"The Land of the Sky," as it's called, has earned a reputation among travelers with its incredible restaurant scene, famed microbreweries, iconic Biltmore Estate, opportunities for outdoor adventure and more. But visitors don't always experience Asheville to the fullest. We asked locals to share some common errors they've observed from tourists.
From attempting to see the best sights without a car to missing key dining spots, here are eight mistakes tourists often make while visiting Asheville ― and some advice for avoiding these errors during your travels.
Not Renting A Car
"I would say a mistake I've seen tourists make is to not rent a car when visiting Asheville and to only go downtown or to the Biltmore Estate. While Uber may work in other cities, Asheville is so spread out that you really need a car to truly get the full experience. One of the best things about Asheville is the surrounding Blue Ridge Mountains, and you need a car in order to access the stunning views and trails on the Blue Ridge Parkway and beyond!" ― Joanna Cahill, owner of Asheville Glamping
Skipping The Cocktail Bars
"I get it; we're Beer City and all that. But we have so many great cocktail bars that you aren't going to want to miss. I recommend Little Jumbo, Sovereign Remedies and Antidote. They all have amazing cocktail lists, along with really good vibes." ― Sarajane Case, author of "The Enneagram Letters" and host of "Enneagram and Coffee" podcast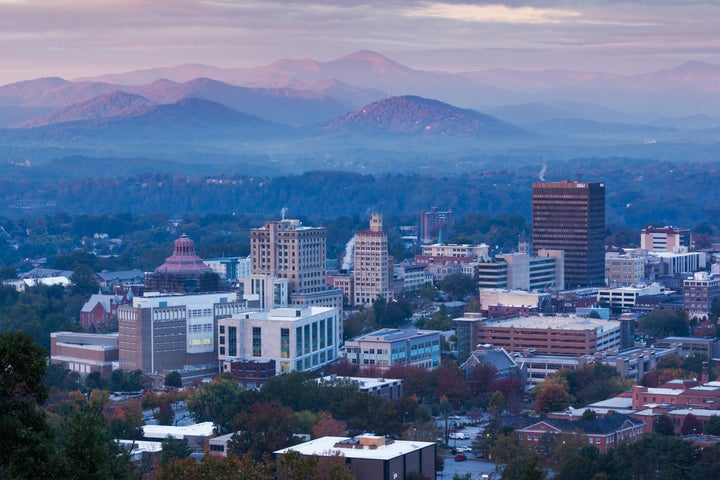 Walking In The Street
"This is perhaps just a personal pet peeve of mine, but often tourists see a cobblestone street and treat it as if it's a pedestrian walkway. Many of us live here and must get to and from work. It's not only dangerous to walk in the middle of the road, but it's also rude." ― Case
Missing West Asheville
"Another area you will want a car to visit is West Asheville, which is full of restaurants, coffee shops and stores that are many of the local favorites." ― Case
"A mistake I think tourists make is only visiting the downtown part of Asheville. There are so many wonderful flavors to explore in the different neighborhoods, like the River Arts district, West Asheville, and the surrounding towns like Black Mountain. One of my favorite hidden gems in town is Leo's House of Thirst in West Asheville ― delicious food and drink and beautiful, charming atmosphere." ― Mary Lofgren, creator of The School of Sensual Living
Forgetting To Make Dinner Reservations
"I think the No. 1 mistake for tourists coming to Asheville is not making a reservation at somewhere nice to have dinner. Mess around and be eating at backyard burgers." ― Clarence Robinson, creator of Cooking with Comedy Catering
Sticking To The Hot Spots
"The most common mistake that tourists make when visiting Asheville is not venturing off the beaten path. There are a handful of restaurants, hiking trails and activities that receive lots of attention and notoriety, but the potential for crowded trails and long wait times are not always worth it. I recommend booking a unique Asheville experience through a small business, such as attending a flower arranging workshop at our flower farm, and asking the local small business owner for their recommendations on trails to hike, favorite breweries and restaurants. If you are willing to venture away from the hot spots, you will be rewarded with amazing food, tasty beverages and solitude while hiking or paddling. There are so many fantastic small businesses to support and creative ways to experience the arts, culture, nature and culinary delights of our mountain town." ― Niki Irving, farmer and florist at Flourish Flower Farm
Not Bringing Cash To Tip Buskers And Service Workers
"A major part of what makes Asheville great are the street performers. If you take a photo of one or enjoy their music, make sure to leave a tip! Additionally, our city, especially the tourist industry, is run by our service workers, yet they are often underpaid and underappreciated. Our cost of living is not proportional to the income our service workers make. Do your part and tip them well! They're part of what makes your trip to Asheville a great experience." ― Case
Assuming The Tourist Attractions Are Overhyped
"In most cities, tourist attractions are locations for glorified photo shoots. However, many of ours are things that locals deeply enjoy as well. I personally try to visit The Grove Park Inn, The Biltmore Estate and do a LaZoom Tour at least once a year. The LaZoom tour is really funny but also informational, and both Grove Park and The Biltmore make you feel like you've stepped back in time." ― Case
Quotes have been lightly edited and condensed for clarity.
If you lose weight, it will improve your health. The fat tissue in your body releases chemicals that can cause a number of health problems. When you lose weight, these chemicals get reabsorbed by your body and so have less effect on you.
Losing weight can also reduce high blood pressure and high cholesterol levels, which can lead to heart disease or stroke.
Finally, there is a weight loss formula that is actually proven to work, as in contributing to centuries of Japanese medical wisdom and tradition—without resorting to dieting or drugs! This naturally sourced ingredient helps suppress the appetite, boost metabolism, reduce fat storage, and balance blood sugar levels. With the Okinawa Tonic for Weight Loss, you can lose up to 50% more body fat, 1-3 kg within just 7 days (not counting energy costs).
To Read a Comprehensive Review On This Natural Supplement And How It May Help You Get Rid Of Unwanted And Unhealthy Excess Fat, CLICK HERE.
Save 50.0% on select products from Fvawe with promo code 501MRSVH, through 2/9 while supplies last.a>

Source link Travel