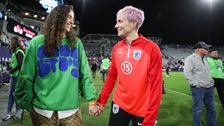 Soccer legend Megan Rapinoe joked that getting injured in her final match Saturday was proof that there is no God, sparking backlash from conservatives. (Watch the video below.)
God knows, the OL Reign star had a helluva career despite it ending in a suspected Achilles tear and a loss to Gotham FC in the National Women's Soccer League Championship. She won two World Cups, an Olympic gold medal and was the FIFA player of the year in 2019. Not to mention she has fought hard for LGBTQ+ rights, racial justice and gender pay equity.
But a light remark about her twist of fate has become trending fodder on X (the former Twitter) and has been reported by several conservative outlets and others.
Rapinoe injured her leg just minutes into the game, which was already to be her last. She addressed the cruel twist of fate to reporters afterward.
"I'm not a religious person or anything and if there was a God, like, this is proof that there isn't," Rapinoe said. "This is fucked up. It's just fucked up. Six minutes in and I eat my Achilles.
Congrats on a magnificent career, Megan, and get well soon.
The Times Herald Daily Website Features Global News In The Following Categories - Sports News, Political News, Travel News, Technology News, Entertainment News, Business News, Money News, Lifestyle News, Food & Drink News, Education News, Real Estate News, Environment News, Religion News, Science News, World News, Crypto News, Health News, Humor News, Video Games News And Legal News - Accident Resources. If You Would Like Coverage Of Another News Category, Please Let Our Editoriial Staff Know In A Comment. Thank You