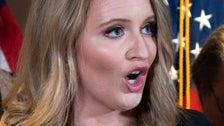 Ellis, who was charged with violation of the Georgia RICO Act and solicitation of violation of oath by a public officer, took to Twitter on Tuesday to claim that the charges are politically based, and all the legal troubles she's going to face are all part of God's plan:
"The Democrats and the Fulton County DA are criminalizing the practice of law. I am resolved to trust the Lord and I will simply continue to honor, praise, and serve Him. I deeply appreciate all of my friends who have reached out offering encouragement and support."
God wasn't available to comment on Ellis' actions, but the responses to her tweet likely answered the prayers of those who love snarky Twitter responses.
Still, at least one person (jokingly) thought Ellis might have a case, "Fani Willis doesn't stand a chance against a lawyer presenting the 'Live, Laugh, Love' defense."
The Times Herald Daily Website Features Global News In The Following Categories - Sports News, Political News, Travel News, Technology News, Entertainment News, Business News, Money News, Lifestyle News, Food & Drink News, Education News, Real Estate News, Environment News, Religion News, Science News, World News, Crypto News, Health News, Humor News, Video Games News And Legal News - Accident Resources. If You Would Like Coverage Of Another News Category, Please Let Our Editoriial Staff Know In A Comment. Thank You