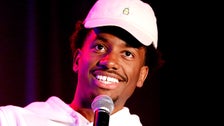 Jak Knight, a stand-up comedian best known for his work on Netflix's "Big Mouth" and Peacock's "Bust Down," has died at age 28, his family announced.
"Knight's loved ones ask that their privacy please be respected during this extremely difficult time," the comedian's family said in a statement through a representative.
The Los Angeles-based writer, comedian and actor had launched "Bust Down," which he co-created, executive-produced and starred in, on the NBC streaming service in March. The six-episode series, which also starred Chris Redd and Sam Jay, followed a group of friends working low-wage jobs at a casino.
"We are devastated by the passing of Jak Knight. He was a brilliant comedian, visionary and artist and we were all lucky to experience his greatness," read a statement from Peacock released on Saturday. "Our hearts are with Jak's family, friends and community during this heartbreaking time."
Since 2017, Knight had voiced the character DeVon for five seasons on "Big Mouth," Netflix's hit animated series about the highs and lows of puberty.
In addition to working as a story editor, he also wrote multiple episodes of the show, which he praised in a 2018 Respect interview for introducing him to "the most brilliant people" such as Jordan Peele and Maya Rudolph.
In the same interview, Knight said he began his career around age 20, working for the twin brother comedians and writers known as The Lucas Brothers on their series "Lucas Bros. Moving Co.," which ran for two seasons.
He credited the groundbreaking series "The Boondocks" and comedian Dave Chappelle as "100% of the reasons why I do what I do" when asked about what inspired his start in the industry.
Knight also had writing credits on the ABC comedy "Black-ish," as well as HBO's talk show "Pause With Sam Jay," which garnered him a Writers Guild of America award nomination this year. He worked extensively as stand-up comedian with his own Netflix special airing in 2018 as part of the streaming service's "The Comedy Lineup" series.
Knight's death was announced shortly after he'd wrapped production on "First Time Female Director," an upcoming feature film from director Chelsea Peretti, which was his first film credit.
Read more tributes to Knight below.
The Times Herald Daily Website Features Global News In The Following Categories - Sports News, Political News, Travel News, Technology News, Entertainment News, Business News, Money News, Lifestyle News, Food & Drink News, Education News, Real Estate News, Environment News, Religion News, Science News, World News, Crypto News, Health News, Humor News, Video Games News And Legal News - Accident Resources. If You Would Like Coverage Of Another News Category, Please Let Our Editoriial Staff Know In A Comment. Thank You