A group of Republican senators introduced a resolution Monday to overturn President Joe Biden's student debt forgiveness plan, intensifying a fight over an issue that's divided Congress and Americans alike.
The measure — led by GOP Sens. Bill Cassidy of Louisiana, John Cornyn of Texas and Joni Ernst of Iowa — would scrap Biden's plan to cancel up to $10,000 in student debt for qualifying federal borrowers, with a select group getting relief on up to $20,000 in loans. The plan is expected to cost around $400 billion in federal spending.
"President Biden is not forgiving debt, he is shifting the burden of student loans off of the borrowers who willingly took on their debt and placing it onto those who chose to not go to college or already fulfilled their commitment to pay off their loans," Cassidy said in a statement Monday. "It is extremely unfair to punish these Americans, forcing them to pay the bill for these irresponsible and unfair student loan schemes."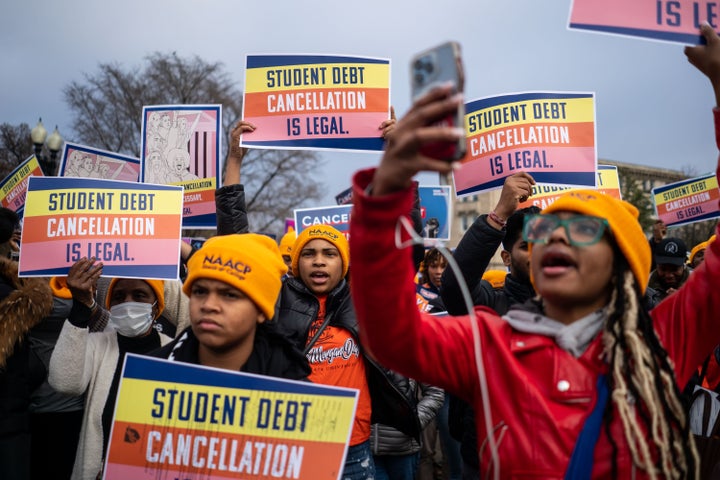 Biden and other advocates for forgiving student loans point to evidence that doing so is ultimately good for the economy because it increases the purchasing power of millions of Americans ― primarily younger generations whose college costs have increased nearly 170% since 1980, a recent study found. The national economic consequences of their financial burdens may become more pronounced in the coming decades as they age and struggle to buy homes, pay for their own children's education and make other investments in the American economy.
The resolution's supporters have painted Biden's plan as an attack on blue-collar workers who didn't take out student loans.
"President Biden's attempt to transfer nearly half a trillion dollars in debt to hardworking Americans who chose to avoid or pay off student loans is unfair and unaffordable," Ernst said in a statement Monday.
But skipping college, which for many Americans is the only way to avoid taking out loans, has its own drawbacks. The U.S. Department of Education has found that people with college degrees have greater employment prospects and higher earning potential. And between 1980 and 2015, the Pew Research Center found, jobs requiring higher education have surged 68%, while those that don't saw less than half that growth.
Monday's resolution, which has been co-signed by 36 other Republicans in the Senate, was introduced through the Congressional Review Act ― a fast-track method of overturning federal agencies' rules that requires only a simple majority in Congress for passage.
The resolution will need the support of at least two Democrats in the Senate in order to pass and be sent to the House, where the GOP holds a slim majority. Biden will be able to veto the resolution if it passes, but Republicans will then have the chance to override him with a two-thirds vote.
Biden's plan is also currently under review by the U.S. Supreme Court.
The Times Herald Daily Website Features Global News In The Following Categories - Sports News, Political News, Travel News, Technology News, Entertainment News, Business News, Money News, Lifestyle News, Food & Drink News, Education News, Real Estate News, Environment News, Religion News, Science News, World News, Crypto News, Health News, Humor News, Video Games News And Legal News - Accident Resources. If You Would Like Coverage Of Another News Category, Please Let Our Editoriial Staff Know In A Comment. Thank You