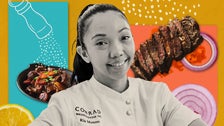 Born in the Philippines and raised in Forest Hills, Queens, chef Ria Montes studied at the International Culinary Center (formerly the French Culinary Institute). She's spent the last 15 years working in various award-winning kitchens in New York and Washington, D.C., and is now the chef de cuisine of Estuary at Conrad Washington DC. In this edition of Voices In Food, Montes talks to reporter Katie Lockhart about misconceptions about Filipino food and why she doesn't want to be known for cooking only that cuisine.
Food is really a big part of Filipino culture, period. It's part of our hospitality. Every time you visit a Filipino person's house, the first thing they'll do is offer you food.
I grew up in the Philippines in Los Baños. My dad was the one who came to the U.S. first ― it's a really typical immigrant story. He moved to the U.S. not too long after I was born so my mom, my brother and I lived with my grandparents in the Philippines. I was around 6 years old when my mom was able to then come here to the U.S. My brother and I were brought over almost a year later, when we moved to New York.
I grew up in Forest Hills. I think it was really great to move from the Philippines to Queens because even though it's very diverse, it's really such an immigrant-founded borough. There were a lot of strong cultural ties. I always tell people, if they're ever going to visit New York, don't ever go to Manhattan ― just get food in Queens, because that's where you're going to get real authentic whatever it is that you're looking for.
We moved into a house with my grandmother, my aunts and my cousins, which is usually what happens with a lot of immigrant families. And to stay connected to your culture, you cook a lot. They always say that it's not a Filipino party [unless there's] lechon (suckling pig) and karaoke, which is a staple of every family party I've ever had. I was in the kitchen a lot, helping cook. I remember rolling lumpia (spring rolls) with my grandmother. That was probably the best job for a little kid because it's a lot easier to make nice, dainty rolls when you have little fingers.
"Although I love Filipino food and am very, very proud of my culture, and I constantly crave Filipino food, I don't want that to be the only thing people think I'm capable of."

– Ria Montes
There's just a whole gamut of Filipino food that we ate all the time. And I think there's not just a misconception of Filipino food but of Southeast Asian food ― people think that it's cheap and that it's not an elevated food. I think what is prevalent in the culinary world is that your French and Italian cooking is top-class, but a lot of Southeast Asian foods are looked at as cheap or fast or low quality. They're like, "Oh, well, it's just rice and whatever's on top of it." But Southeast Asia does a lot of low and slow cooking, and that imparts a lot of flavors.
And it's nice to see Filipino food becoming more popular. I think it's a culmination years in the making. Food Network has its positives and negatives, but I think it helped a lot of people became food savvy and more educated and more willing to explore new kinds of foods. I think Filipino food is definitely having its moment in the sun, as it should. It's really, really great cuisine.
When you come from an immigrant family, the expectation is that you're going to do well in school, you are absolutely going to college and you are going to find a traditional career. So I did all of that, but I didn't really like it. I didn't really fit in. I went to Fashion Institute of Technology, and it was more of a way of a means than my passion. I had to be really honest with myself and to be honest ― I really didn't know what I wanted to do.
It wasn't until I was faced with a quarter-life crisis that I thought, "Let's give cooking a try" [as a career]. And to be honest, it wasn't exactly well received by my parents in the beginning. My dad's first reaction was, "But you're such a tiny girl." I'm 5 feet tall and, at the time, I was barely 100 pounds. Even then, my dad understood that kitchens were rough and male-dominated. He was just worried about his daughter. And I remember telling him, "Well, then it's a good thing that you and mom did a good job raising a tough girl like me."
A lot of people look at me, and they think, "Oh, she's a Filipino immigrant, so she's gonna cook Filipino food." And although I love Filipino food and am very, very proud of my culture, and I constantly crave Filipino food, I don't want that to be the only thing people think I'm capable of. I just don't want to end up being pigeonholed. So it's really important for me to try to branch out to a lot of different cuisines.
But I think that there's always going to be a component of Filipino food in my cooking. There's actually a great example on our menu right now. We make our own pasta in the restaurant, and our pasta is my take on kare-kare, which is typically a braised oxtail that's mounted with peanut butter to make it thick. So we have that on the menu, except it's a pasta dish. It's pulled short ribs and it's all the same flavor components. There's still fish sauce in there. There's still loads of garlic and ginger there. So I think it's always going to seep into my food, whether it's going to be an outright Filipino dish or it's just a dish that's reimagined in a different way.