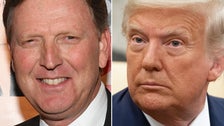 Influential Christian conservative Bob Vander Plaats suggested Monday that Republicans have to move on from Donald Trump if they want to win back the White House.
"If we're gonna have a conversation about what happened in the past, or vengeance about what happened in the past, versus a compelling vision for the future, we're gonna get beat in 2024," the CEO of the conservative Family Leader organization in Iowa told "The Hill on NewsNation."
"I think America is exhausted by it. I think they're tired of it," the evangelical leader continued, appearing to reference Trump's ad nauseam attempts to relitigate the 2020 election. "I think they want to turn the page to the next generation leader, someone who's got a compelling vision that might unite America around things that actually bless America."
Watch the interview here:
The Iowa caucuses would be a chance for Republican front-runner Trump and his rivals to make their cases, said Vander Plaats, who didn't rule out a pivot from the former president that could change his mind.
But Trump's desire to downplay what he's dubbed "the abortion issue" is a "huge problem," said Vander Plaats, responding to Trump's suggestion that Republicans underperformed in the 2022 elections because of their championing of far-reaching restrictions.
Vander Plaats said Trump "could take a victory lap by just saying, 'Hey, look, I'm the guy who gave you three Supreme Court justices that overturned Roe v. Wade,' but instead he then alienates himself from the pro-life community by saying, 'You're the reason we didn't do better in 2022,' instead of saying, 'Listen, wherever my fingerprints were in 2022, we did dismally.'"
The "pro-life community expects better than that," Vander Plaats added. "That's why I think the Iowa caucus door has flown wide open for people to take a look at who should be our nominee."
Vander Plaats endorsed former Arkansas Gov. Mike Huckabee in 2008, former Pennsylvania Sen. Rick Santorum in 2012 and Sen. Ted Cruz (R-Texas) in 2016, passing on Trump that year after the then-reality television personality chose not to attend a forum hosted by his organization.
Once Trump won the GOP nomination, though, Vander Plaats said he'd vote for him but was "not going to be a lapdog." Evangelical voters played a key part in Trump's 2016 victory.