Pros
Excellent sound quality

Great microphone

Elegant aesthetic
The H6PRO leaves gamer-chic on the cutting room floor.
About the Epos H6PRO
Here are the specs of the headset we reviewed
Cost: $179
Style: Over-ear, closed-back
Colors: Blue with black accents, green with gold accents, white with silver accents
Drivers: 42mm dynamic drivers
Connections: detachable 4.6-foot combined audio jack cable (braided), detachable 8.2 foot split headset cable (braided)
Device compatibility: PC, PlayStation 5, Xbox, any device with 3.5mm support
Microphone: Bi-directional, detachable boom with flip to mute
Virtual Surround Sound: None
Noise cancelation:
Weight: 322g (11.35 ounces)
Special features: Open and closed-back versions available, magnetic microphone attachment system, magnetic discs to cover microphone port, memory foam ear cushions
The Epos H6PRO exists at the top of the company's wired headset line. It absolutely looks the part with a fashionable aesthetic and dual dynamic drivers tuned to deliver exceptional balance and detail for games, music, and movies. I tested the closed-back version, but it's also available with an open-back design for users that don't mind trading isolation (and privacy) for an improved soundstage.
Priced at $179, the H6PRO offers a relatively sparse package. Included with the headset are two braided cables; a shorter cable made to connect to controllers and smartphones and a longer split cable meant to wrap around to the back of your gaming PC. Since there is a volume roller on the right earcup, there is no in-line volume control or microphone built into either cable.
Also included in the package are two magnetic plates to cover the microphone panel if you choose to remove it.
What we like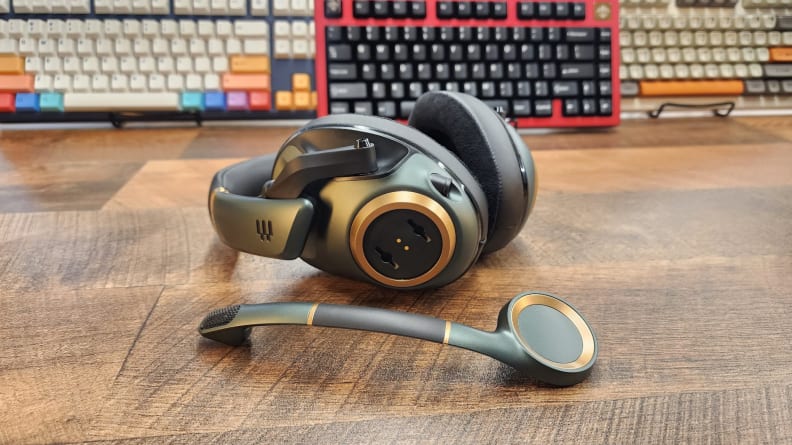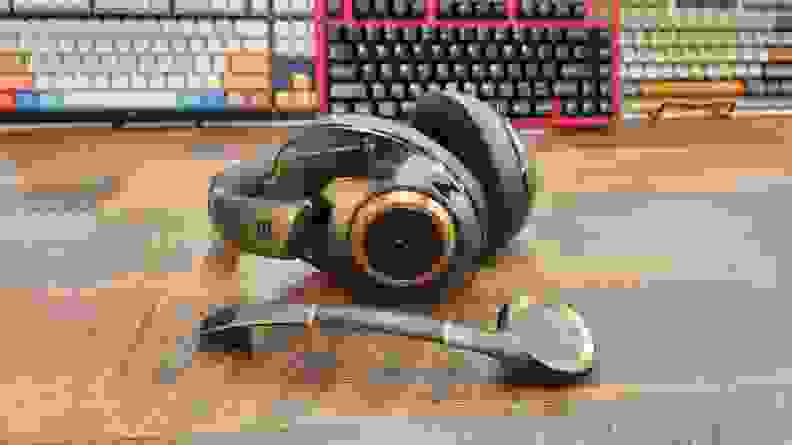 It's a gaming headset, all grown up
Gaming headsets can be a dime a dozen, but nothing is further from the truth with the Epos H6PRO. This headset is designed to look sleek and elegant, unmistakably a gaming headset, yet the type you might see on the head of an after-hours working professional.
There are no RGB lights or no hard angles. Instead, it's about muted, vaguely metallic colors accented with muted metallic rings. It has a leatherette headband and outer rings on its memory foam ear cushions, but supple velour where they touch your face. If a gaming headset were to grow up and develop a taste for the finer things, it might look something like this.
It's clear that Epos is targeting a different demographic with this headset (which might also explain its high price despite lacking wireless connectivity). As someone who once embraced the generic gamer aesthetic with all of its bright colors and shiny lights, I appreciate having an option that's a bit more subdued and mature to match how I've changed over time. When having RGB lights on your ears begins to feel a little silly, the H6PRO is the perfect alternative.
Outstanding sound quality
If there's one thing Epos knows how to do, it's create great-sounding gaming headsets. The H6PRO exemplifies the very best of what its engineers learned in their time as part of Sennheiser. It's a headset that emphasizes balance instead of bombastic bass and clarity over intensity.
This isn't to say that it lacks in either department. The bass is rich, wide, and highly textured. It reaches low to deliver cinematic rumble and punchy, impactful blasts for gunshots and explosions, but it's not artificially enhanced to invade the mids. The middle and upper registers are crisp and clear, with important cues like enemy footsteps and teammate callouts cutting through to the top of the mix. The highs, while at times airy and somewhat bold, aren't sharp or fatiguing.
Battlefield 2042 proved absolutely engaging, and the H6PRO makes the sound feel as big as the maps I'm playing on. Since it connects with an analog 3.5mm connection, there is no virtual surround sound, but it doesn't need it.
It's a great example of stellar stereo, with positionality that's easy to interpret so you can get the jump on enemies. Picking out height can be a bit more difficult, but the modern audio engines in games like Fortnite do a good job of accounting for this.
These same qualities make it a great choice for music and movies. I had as much fun rocking out to Coheed and Cambria's Vaxis II: A Window of the Waking Mind as NF's "CLOUDS", and even my quiet post-classical playlist on Spotify. Jumping between genres was no problem for these headphones, nor was settling each night with episodes of New Amsterdam and The Recruit on Netflix. Epos's well-balanced tuning strategy made these a treat to listen to.
Clear, natural comms
Half the duty of any gaming headset is allowing you to chat with your friends and teammates. The H6PRO's lift-to-mute boom microphone is great and shows that Epos applies its concept of balance to more than just the speaker drivers.
I expected it to sound thin, like the mic on the Razer Kraken V3 Pro or the Steelseries Arctis Nova Pro Wireless (or, really, most gaming headsets). Instead, it's surprisingly full-bodied and captures more of the true character of my voice.
Gaming headset mics have the difficult job of canceling out environmental audio and isolating just the sound of your voice. Cutting out everything from roommates to clacky mechanical keyboards requires strong filters that often leave your voice nasally and digitally compressed.
The H6PRO balances noise rejection with natural sound capture better than most. It lets in a modicum more sound and still leaves you with a hint of compression, but restores more body and character in return. It's a trade off that's entirely worthwhile.
The way Epos has implemented the microphone is also unique. Rather than simply plug into a second port on the headphones, the microphone attaches to the side of the left earcup using magnets. Pulling it off reveals two electrical contacts and slots to fix the microphone into place.
It's easy to remove (but not accidentally), impossible to put on wrong thanks to the polarity of the magnets, and with the magnetic covers can be hidden if you want to use the H6PRO as normal headphones. The panel also rotates, which allows for a flip-to-mute function that instantly cuts your mic.
What we don't like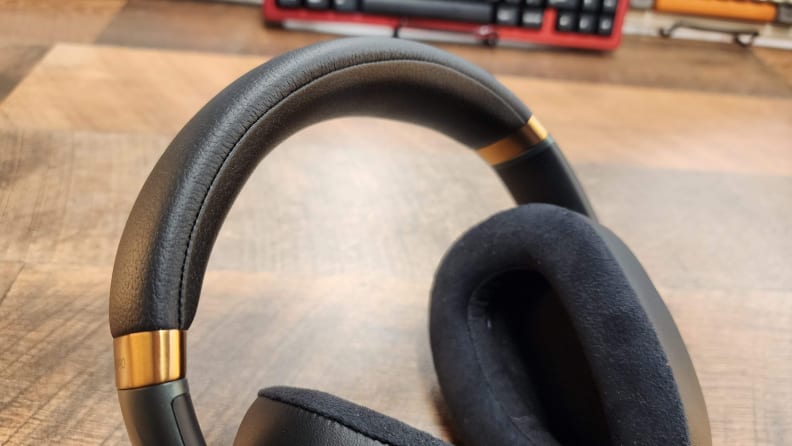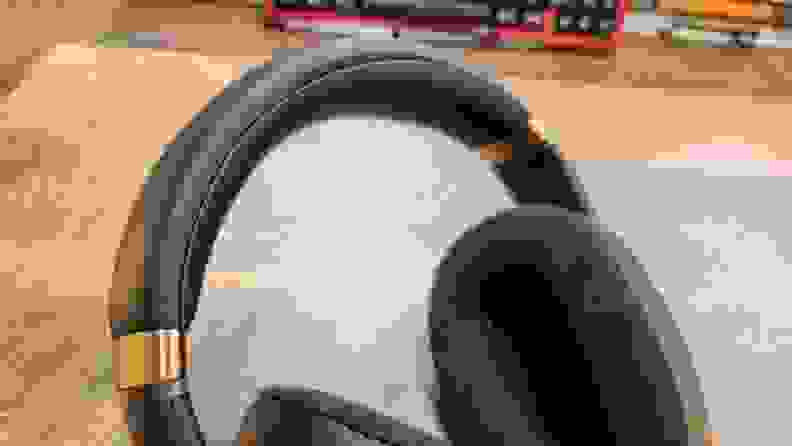 Long-term comfort isn't great
The Epos H6PRO has a lot going for it, but its long-term comfort leaves a lot to be desired. At 11.35 ounces, it's not especially heavy, but the headband balances that weight on the top of your head. I'm admittedly sensitive to hot-spotting, and it only took me about an hour before the top of my head began to feel sore. Once that starts, it's hard to stave off without a prolonged break.
It's also not the best choice for glasses wearers. While not too tight when properly adjusted, the pads were stiff enough to press the arms of my glasses against the side of my head. They became painful to wear after only an hour of gaming. I also learned to be extra careful putting the headset on over my glasses to prevent it from pulling them out of place.
While the headband allows you to increase the width of the earcups, their actual range of movement is limited. Each is able to tilt and pivot to match the shape of your face, but they don't rotate to lay flat when you need a break. I found them just tall enough to feel "in the way" when turning my head, forcing me to take them off completely. It's not a deal-breaker but isn't very convenient when you need to vent your ears between matches.
It's wired only
The biggest drawback is that the H6PRO leaves you tethered to whatever device you're using it with. There's no getting up to grab a quick drink or a snack, so if you need to step away, you're leaving your game and voice chat buddies behind. Depending on how you game, this may not be a big deal, but if you play for hours at a time, having to leave anytime you need to stand up can be frustrating.
While some would argue that wired headsets are best for pure audio quality, I'm not convinced that's the case among flagship headsets. Wireless 2.4GHz dongles offer plenty of bandwidth for great audio, as stellar competitors like the Steelseries Arctis Nova Pro Wireless and Corsair Virtuoso RGB Wireless XT clearly show.
The H6PRO certainly competes with those headsets in audio quality, and for less money, but feels more constraining to use.
The cables themselves are also quite microphonic. It's less noticeable when there's audio playing, but during lulls in the action, you'll hear every single time the cable rubs on your shirt. It's a side effect of the braiding, which is otherwise good, but I wish the noise was better isolated from the ear cups.
It's expensive for what it is
Ultimately, the biggest challenge the H6PRO faces is how expensive it is. At $179, it's not just competing against some of the best wired gaming headsets, it's competing against some of the best gaming headsets period. And when most of those headsets also promise great sound, good looks, improved comfort, and add wireless connectivity on top, the H6PRO begins to feel a little overpriced.
Ultimately, this is a headset that banks on its great sound quality and elegant aesthetics to justify its cost. There is no virtual surround sound (though I would argue it doesn't need it) and no digitally enhanced features like customizable EQ presets. It's just pure, analog, stereo sound. It sounds great and looks better, but whether it's worth paying extra for feels contingent on being an audio enthusiast or falling in love with their look.
Should you buy the Epos H6PRO?
Maybe, if you love good audio and don't mind the wire
The Epos H6PRO is a very good overall headset that has a distinctly grown-up sense of style. The aesthetic really is one of the most unique among any gaming headset and leaves gamer sensibilities at the door. The sound quality is top-notch, even without virtual surround sound, and the microphone delivers a rich, natural capture with minimal compression applied to your voice.
At $179, though, it's a bit overpriced for a purely analog stereo gaming headset that doesn't work well with glasses or sensitive heads (though the black model can usually be found for $140 on sale). It looks great, but for the same price, the Steelseries Arctis Nova 7 Wireless offers excellent sound quality alongside dual Bluetooth and low-latency 2.4 GHz wireless. For $40 less than the H6PRO, the Arctis 7+ steps up with superior comfort and 30-hour battery life. At $130, Razer offers the bassy Razer Kraken V3 and included haptic feedback to add immersion to your favorite games.
Though it's expensive, the Epos H6PRO still manages to be one of the better-sounding gaming headsets available at its price. Its sound is balanced and detailed, perfect for both competitive shooters and single-player games, and it makes up for the lack of virtual surround sound offered by many of its competitors. The microphone is also clear and your voice won't be overly compressed to drown out surrounding noise. If you prefer sound quality over wireless connectivity and enjoy its mature aesthetic, the Epos H6PRO is a very good option for gamers with enhanced budgets.
The product experts at Reviewed have all your shopping needs covered. Follow Reviewed on Facebook, Twitter, Instagram, TikTok, or Flipboard for the latest deals, product reviews, and more.
Prices were accurate at the time this article was published but may change over time.
Meet the tester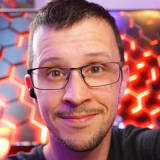 Christopher Coke
Contributor
Chris has been specializing in PC and audio-related tech since 2015. Find him at IGN, Tom's Hardware, PC Perspective, MMORPG.com, and more.
Checking our work.
Our team is here for one purpose: to help you buy the best stuff and love what you own. Our writers, editors, and lab technicians obsess over the products we cover to make sure you're confident and satisfied. Have a different opinion about something we recommend? Email us and we'll compare notes.
The Times Herald Daily Website Features Global News In The Following Categories - Sports News, Political News, Travel News, Technology News, Entertainment News, Business News, Money News, Lifestyle News, Food & Drink News, Education News, Real Estate News, Environment News, Religion News, Science News, World News, Crypto News, Health News, Humor News, Video Games News And Legal News - Accident Resources. If You Would Like Coverage Of Another News Category, Please Let Our Editoriial Staff Know In A Comment. Thank You