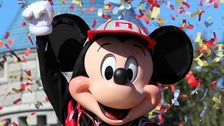 Disney has canceled a $1 billion plan to expand its Orlando, Florida, operations amid its escalating war with Gov. Ron DeSantis.
Disney announced the move on Thursday in a memo to employees. Last week during an earnings-related call with analysts, CEO Bob Iger asked, "Does the state want us to invest more, employ more people, and pay more taxes, or not?"
The 10-figure office complex near Walt Disney World would have brought more than 2,000 jobs to the region, according to an estimate from the Florida Department of Economic Opportunity.
Disney previously planned to build the Lake Nona Town Center for more than 1,000 employees set to be relocated from the company's Southern California offices. The employees were mainly from Disney's prestigious Imagineering team, which works to develop theme park attractions.
When Disney's Josh D'Amaro, the theme park and consumer products chairman, announced the plan to move east in 2021, he cited "Florida's business-friendly climate."
While some employees went as far as quitting ahead of the proposed move, about 200 Disney employees had already relocated to Florida from California.
In the announcement to employees on Thursday, D'Amaro wrote: "It is clear to me that the power of this brand comes from our incredible people, and we are committed to handling this change with care and compassion. I remain optimistic about the direction of our Walt Disney World business."
He went on to note that Disney still plans on investing $17 billion in its Florida operation in the next decade.
Disney's decision is the latest in an ongoing battle between the company and DeSantis as he pushes his anti-LGBTQ agenda.
The likely 2024 Republican presidential candidate began to target Disney after the company expressed opposition to his so-called "Don't Say Gay" bill in March 2022.
In March of this year, the company sued DeSantis for trying to whittle away at Walt Disney World's autonomy in "a targeted campaign of government retaliation."
The cancellation of Lake Nona Town Center also comes as Disney is looking to trim its costs. In February, the business announced its plans to lay off 7,000 employees in an effort to cut $5.5 billion from its spending.
The Times Herald Daily Website Features Global News In The Following Categories - Sports News, Political News, Travel News, Technology News, Entertainment News, Business News, Money News, Lifestyle News, Food & Drink News, Education News, Real Estate News, Environment News, Religion News, Science News, World News, Crypto News, Health News, Humor News, Video Games News And Legal News - Accident Resources. If You Would Like Coverage Of Another News Category, Please Let Our Editoriial Staff Know In A Comment. Thank You