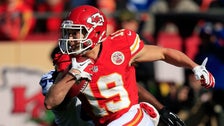 "Words cannot describe the heartache we all feel as a result of Devon's passing," the family said in a statement sent to HuffPost Wednesday by Wylie's sister, Dene Ogles. "Devon was a devoted son, grandson, brother, uncle, teammate and friend. He touched so many lives as a result of his love for the Lord and his special talents on and off the field."
The family is awaiting the result of an autopsy report, and is asking "for privacy surrounding the matter," Ogles said.
Wylie starred at Granite Bay High School in the Sacramento, California, area, and at Fresno State, before clocking an impressive 4.36 40-yard dash time at the 2012 NFL Combine.
The Chiefs drafted Wylie in the fourth round, and he played in six games his rookie season in 2012, catching six passes for 53 yards while returning kicks and punts. He played in two games for the Titans in 2013.
After the San Francisco 49ers signed him to the practice squad in December of that year, the well-traveled Wylie told the Bee: "I know a lot of teams have been bringing me on to these practice squads, basically as an extended tryout. And for one reason or another, they need to bring in another guy because someone gets hurt. And I get booted. If they keep me, they're going to get my best."
The Times Herald Daily Website Features Global News In The Following Categories - Sports News, Political News, Travel News, Technology News, Entertainment News, Business News, Money News, Lifestyle News, Food & Drink News, Education News, Real Estate News, Environment News, Religion News, Science News, World News, Crypto News, Health News, Humor News, Video Games News And Legal News - Accident Resources. If You Would Like Coverage Of Another News Category, Please Let Our Editoriial Staff Know In A Comment. Thank You