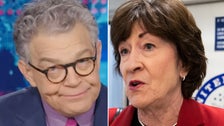 "Daily Show" guest host Al Franken closed out his week behind the desk with impressions of four of his former Senate colleagues.
The topic was Tuesday's contentious House hearings on TikTok as lawmakers from both parties put CEO Shou Zi Chew on blast over the popular app's security risks as well as its close ties to the Chinese government.
But that last one took a turn as Franken used his impression to remind Collins of her decisive vote in favor of Brett Kavanaugh's confirmation as a Supreme Court justice.
"I'm worried about the use of artificial intelligence," Franken said, mimicking Collins' distinctive voice. "Because I have seen a deep-fake video out there of me saying that I trust Brett Kavanaugh to uphold Roe v. Wade. Can you change that to me saying I don't trust him? Because that's what I said!"
Check it out in his Thursday night monologue:
The Times Herald Daily Website Features Global News In The Following Categories - Sports News, Political News, Travel News, Technology News, Entertainment News, Business News, Money News, Lifestyle News, Food & Drink News, Education News, Real Estate News, Environment News, Religion News, Science News, World News, Crypto News, Health News, Humor News, Video Games News And Legal News - Accident Resources. If You Would Like Coverage Of Another News Category, Please Let Our Editoriial Staff Know In A Comment. Thank You