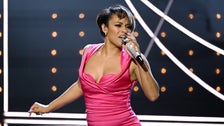 Maybe we should all think about the thing we did to Ariana DeBose.
The Broadway star and actor who won an Oscar for her performance as Anita in 2022's "West Side Story" seems to have deactivated her Twitter account Monday after a BAFTA performance Sunday night that was, uh, well, pretty cheesy.
HuffPost has reached out to DeBose for comment, but did not receive an immediate response.
Twitter poked a little fun at DeBose Sunday night after she rapped about all the women nominated for BAFTAs during the award show's opening number.
It didn't help that while she rapped about each nominee, the camera panned to that specific actor and most appeared to exude a certain amount of awkwardness when their name was mentioned.
DeBose, who admittedly performed the rap like any musical theater pro probably would, also got a lot of attention for one cryptic line in which she said, "Angela Bassett did the thing."
In fact, the line was discussed so much that "Angela Bassett" trended on Twitter Monday, with mixed reactions.
Some people made fun of the lyric …
… While others seemed to appreciate DeBose's over-the-top interpretation of it.
It's unclear if this is why DeBose deactivated her account — and the bulk of the tweets about her rap are more in the spirit of light teasing than pure vitriol. But there was enough chatter online about her rap that BAFTA producer Nick Bullen told Variety Monday that criticism of it was "incredibly unfair."
Bullen told the outlet that DeBose "put the whole piece together" in a short amount of time with her team and worked closely with a musical director and choreographer. Bullen said the rap was meant to celebrate "a great year for women in film" performed by "a woman of color who is at the absolute top of her game."
When asked by Variety if the mocking may be due to a culture clash or because people only saw the rap portion of her performance, Bullen responded by saying that the rap was meant to resonate with "younger people" and "diverse groups" and not the "the traditional British award ceremony audience."
"I think a lot of people don't like change, and there's a view that the BAFTAs have to be this slightly stiff, traditional British, middle-England messaging," Bullen told Variety. "But American awards shows have much more razzmatazz, much more showbiz, and perhaps a broader range of people being involved. We felt we're not about revolution, we're about evolution."
But, considering the jokes, we can't really blame DeBose too much for wanting to do this kind of Angela Bassett thing to her Twitter account:
The Times Herald Daily Website Features Global News In The Following Categories - Sports News, Political News, Travel News, Technology News, Entertainment News, Business News, Money News, Lifestyle News, Food & Drink News, Education News, Real Estate News, Environment News, Religion News, Science News, World News, Crypto News, Health News, Humor News, Video Games News And Legal News - Accident Resources. If You Would Like Coverage Of Another News Category, Please Let Our Editoriial Staff Know In A Comment. Thank You