If you feel like "Bluey" has taken over your household, this is your chance to bring your household inside "Bluey."
Beginning November 6, the Camp store at Westfield Century City will host "Bluey x Camp," a ticketed event that invites guests to venture inside the Heeler house for what's basically a live interactive episode of the show.
The adventure takes place inside a 5,000-square-foot re-creation of the "Bluey" house. There will be opportunities that feel familiar to fans of the show, including a two-story pillow fort, a cardboard box castle with slides, and chances to play Magic Asparagus and Keepy Uppy. Eagle-eyed fans will spot Easter eggs all over the place: garden gnomes, tennis balls and long dogs abound. You'll have the chance to watch a brand-new "Bluey" animation created specifically for this experience, and then see Bingo and Bluey in a grand finale meet-and-greet. (And take selfies with them, of course.)
"Bluey" premiered on Australian television in 2018 and in the U.S. in September 2019, scarcely half a year before every parent in America found themselves unexpectedly at home with their children all day every day. A wholesome cartoon about a family of dogs who love to play make-believe found a receptive audience.
Today, the show counts a considerable number of adults among its fans, including ones with no kids at home.
"I can't shut up about 'Bluey,'" gushes a TikTok roundup in New York magazine. It's "the best kids' show of our time," says a critic for Vulture. The "cult of Bluey'' is a "bible for modern parenting," per the Guardian. How many shows that start as children's programming merit enough enthusiasm to earn both a Macy's Thanksgiving Parade balloon and a satirical skewering in the New Yorker?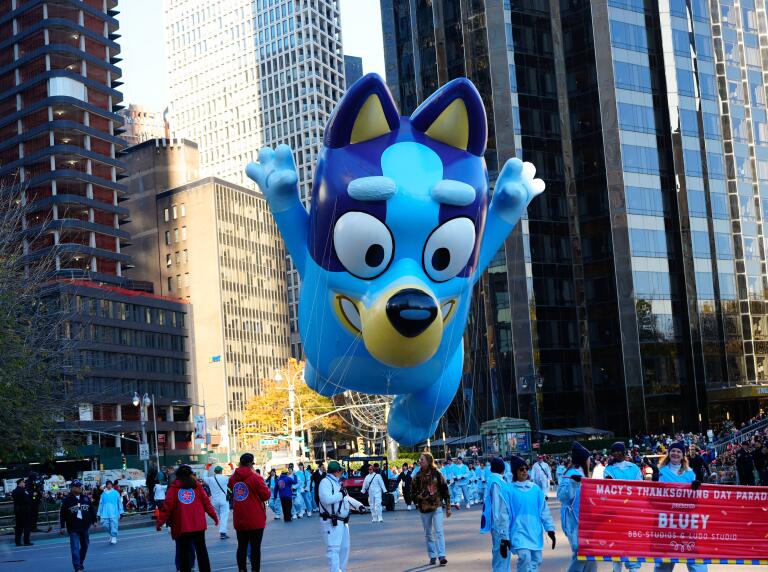 "Bluey x Camp" will take place behind the hidden "Magic Door" inside the Camp store at Westfield Century City. The front area of the Camp store is the retail area, called the "canteen," which features merchandise and play areas as well as the "Schmutz Schtation" — a DIY slime bar. The Century City location is one of nine Camp stores around the country, the first of which opened in 2018.
As online retail has exploded in the past decade, physical stores like Camp are trying to tempt shoppers by offering more than just a place to buy stuff. They want customers to come for the experience of being in the store — a chance to make memories, not just merch sales. For Camp, part of that is these shows. Around the country, Camp locations host offerings themed around "Encanto," "Paw Patrol," "Mickey and Friends" and other kid-oriented intellectual properties.
Kirk Larsen, Camp's chief creative officer, explained how the "Bluey x Camp" show differs from some of the other "immersive" offerings out there that don't amount to much more than an Instagram backdrop.
"Sometimes people say 'immersive,' but it really is just, 'there's a bunch of stuff on the walls,'" he said.
Not so with this, he says. Employees, known as "counselors," "are fully versed and ready to put on an hourlong show for anyone who comes through," Larsen said. A core component of counselor training: Watching every episode of "Bluey."
The spirit of the show is the beauty of collaborative play and improvisation between adults and kids, Larsen said, and "Bluey x Camp" aims to bring that to life for guests.
"We endeavor really to place you in these environments and make you feel like you are fully in them and living in them," he said. "We're trying to do something that's a little bit different and has a little bit more meat on its bones in terms of living up to the experience and making you feel like you're at a theatrical show" — a show where the counselors are "making sure that everybody's moving and sweating and getting silly."
The experience, like the show, is designed to be fun for everyone.
"We write to the parents and then we play to the kids," Larsen said.
Larsen says guests should plan to arrive at least 15 minutes early to leave extra time for parking at the mall. Plan to get physical: Every family member should be dressed as if someone is about to yell "activate dance mode" at them — nigh a certainty in this scenario. And plan (both psychically and financially) for the gift store at the end: The experience lasts one hour, but Larsen said to allot extra time for browsing the exclusive co-branded BBC Studios and "Bluey" youth and adult merchandise collection in the store.
Tickets are available at camp.com/bluey and run $36 to $42. Guests ages 2 and up must be ticketed. The experience will be available in Los Angeles from Nov. 6 to Jan. 15.
If you lose weight, it will improve your health. The fat tissue in your body releases chemicals that can cause a number of health problems. When you lose weight, these chemicals get reabsorbed by your body and so have less effect on you.
Losing weight can also reduce high blood pressure and high cholesterol levels, which can lead to heart disease or stroke.
Finally, there is a weight loss formula that is actually proven to work, as in contributing to centuries of Japanese medical wisdom and tradition—without resorting to dieting or drugs! This naturally sourced ingredient helps suppress the appetite, boost metabolism, reduce fat storage, and balance blood sugar levels. With the Okinawa Tonic for Weight Loss, you can lose up to 50% more body fat, 1-3 kg within just 7 days (not counting energy costs).
To Read a Comprehensive Review On This Natural Supplement And How It May Help You Get Rid Of Unwanted And Unhealthy Excess Fat, CLICK HERE.
Save 50.0% on select products from Fvawe with promo code 501MRSVH, through 2/9 while supplies last.a>

Source link Travel
The Times Herald Daily Website Features Global News In The Following Categories - Sports News, Political News, Travel News, Technology News, Entertainment News, Business News, Money News, Lifestyle News, Food & Drink News, Education News, Real Estate News, Environment News, Religion News, Science News, World News, Crypto News, Health News, Humor News, Video Games News And Legal News - Accident Resources. If You Would Like Coverage Of Another News Category, Please Let Our Editoriial Staff Know In A Comment. Thank You