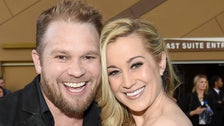 Country songwriter Kyle Jacobs, the husband of "American Idol" singer Kellie Pickler, was found dead Friday of an apparent suicide, according to Nashville police.
Pickler called police when she couldn't find her husband in the Nashville home the reality-show sweethearts shared, and she was unable to open a locked door, according to authorities.
Police and the Nashville Fire Department arrived to find Jacobs "deceased from an apparent self-inflicted gunshot wound in an upstairs bedroom/office," police said in a statement. "His death is being investigated as an apparent suicide," it added.
The day before Jacob's death, he had celebrated singer Brice Lee's album "My World," which Jacobs had produced, hitting platinum.
"Platinum?! SWEEEET!!! An amazing crew of incredibly talented peeps put this one together… Deeply honored to be a creative part of it… Thank you Jesus!!!" Jacobs wrote on Instagram.
Jacobs also produced several other Brice hits, including "I Drive Your Truck," "Hard to Love," "Rumor" and "Drinking Class."
Jacobs wrote Garth Brooks' 2007 hit "More Than a Memory" and Tim McGraw's "Still." He also worked with hit-makers like Kelly Clarkson, Randy Travis and Clay Walker.
He was a Grammy nominee, won an Academy of Country Music Award and an award from the Country Music Association.
Jacobs married Pickler in 2011, and they starred in the popular reality TV series "I Love Kellie Pickler."
The Times Herald Daily Website Features Global News In The Following Categories - Sports News, Political News, Travel News, Technology News, Entertainment News, Business News, Money News, Lifestyle News, Food & Drink News, Education News, Real Estate News, Environment News, Religion News, Science News, World News, Crypto News, Health News, Humor News, Video Games News And Legal News - Accident Resources. If You Would Like Coverage Of Another News Category, Please Let Our Editoriial Staff Know In A Comment. Thank You